You have clicked the right button !!. I will show you some pictures of my family, my friends and more..... I wanted to start with the last picture taken, following the others shot in the past.
| | |
| --- | --- |
| Here I am !, in these present days, thinking of my past and imagining the future to come. In this picture I really look so sad, bored and annoyed of life. Sometimes it is true, yes, but I am still determined to continue fighting with life, in every circumstance I am in. | |
| | |
| --- | --- |
| | In this picture, I am with my second cousin, Graziella and her two nieces. She is my best friend too. From the front, starting from left, Me with Graziella, and from the back, left, Chiara and her sister Katia, and then there is my mother watching Tv. You can see the computer is almost near the Tv, so when I am tired of surfing the internet, just turn my back and have the Tv ready in front of me. :-) |
| | |
| --- | --- |
| | I imagine you saying, "What is she doing in this picture?". Many told me, "What are you drawing?" No, here I am stiching a new cushion on canvas material. There are different patterns and the result is beautiful. You can watch this cushion under the hobbies section. This type of Embroidery is called Bargello. |
| | |
| --- | --- |
| Here I am with my family, we are four, Mum Jane, me (on wheelchair, it happenned 4 years ago. I suffer from neurofibromatosis, had two acoustic nearomas in the ears and because of the operation, I have become almost paralysed) , my Dad Joseph, and my sister Sarah behind me. Sarah is married now and has a beautiful boy, James, so the family has increased now. In this picture, we are at a surprize party organized for me on my 23rd birthday. | |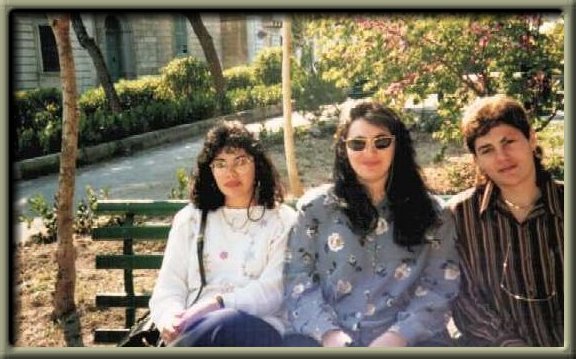 Here we went shopping and stopped for a rest. From left, me, with my younger sister, though in this picture she looks the eldest, in fact she was not on a diet ;-), (if she reads this she'll kill me.) and then our friend, Josephine.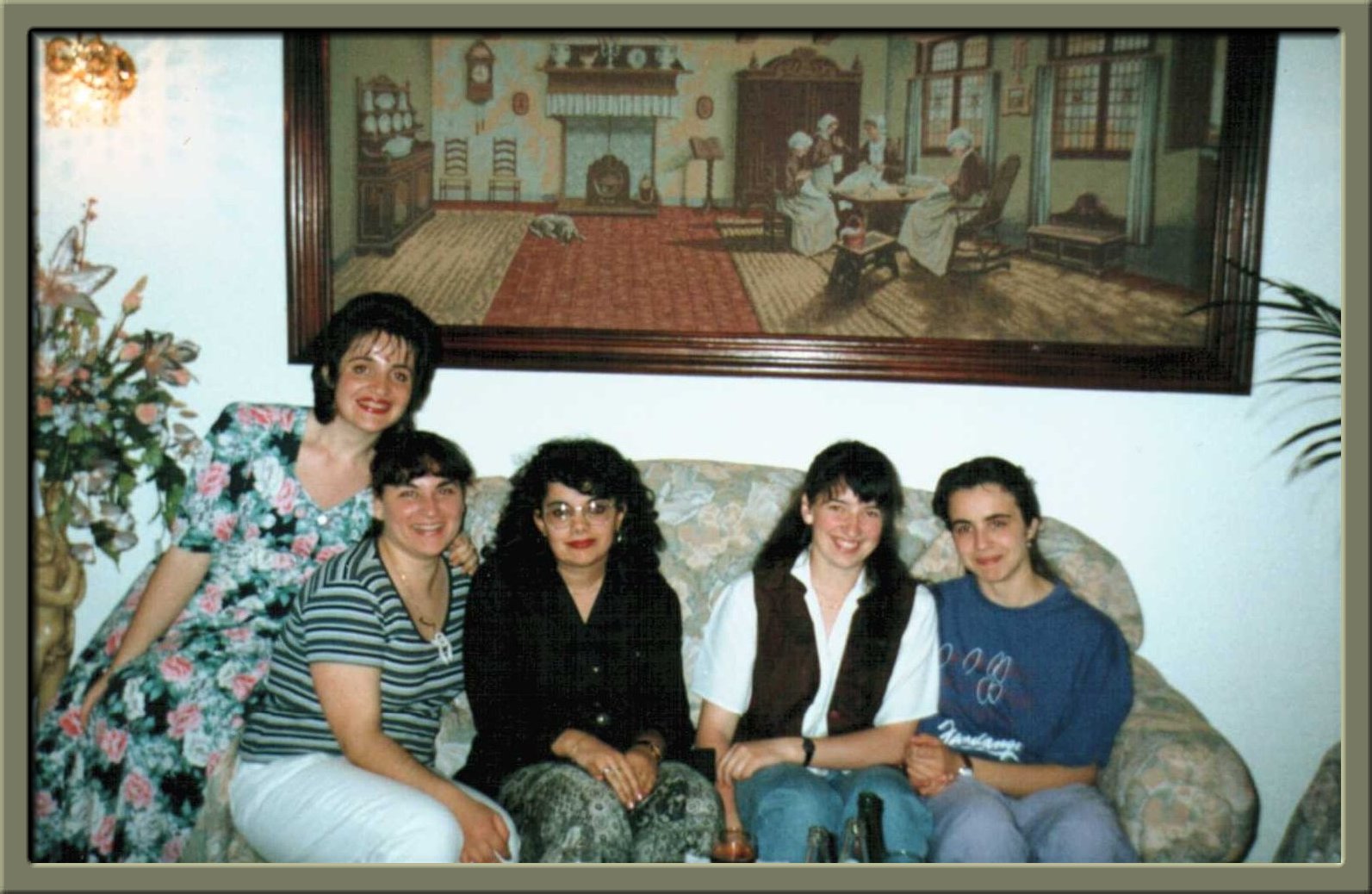 This is the only picture I have with some close friends all together. I know them from primary school, and as years passed by, our frienship increased. Beginning from left, Christine sitting on the sofa, then Romina, me (still with long hair, then), Agnes and Annalisa.
Powered by counter.bloke.com

[ Home | Favorites | Personal | Entertainment | Hobbies | Games | Humor ]
[ Poetry | Webrings | Utilities | Hot News | Recipes | Win My Award | HTML | Awards ]