Sylvia's Corner has decided to open up a page for Award application contest. I will visit your site and judge whether it is worthy of my award. I judge on design, ease of accessibility, content and contribution. It must be easy to navigate, all pages link together, and sites that make me want to bookmark or return to them.
One more thing, please link back the award/s given to you to:
http://members.tripod.com/~sylfen/index.html
THESE ARE THE AWARDS:
Friendship Award was created, to show the importance of friendship and how truthful and loyal we are to our friends. Hope I find something in particular about your friends on your site.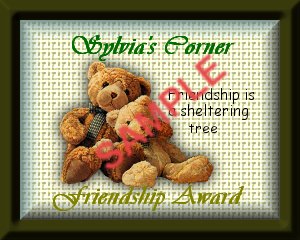 A new Award has been created, Excellence Award shows the simplicity and beauty of your site.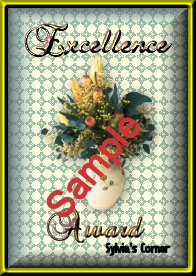 This magical Award gives your site the sense of fantasy with which you had created your homepage on the net.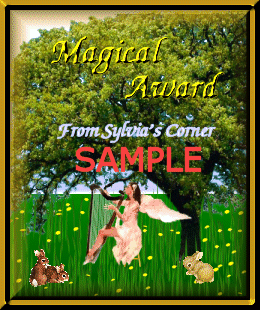 A freshly Award has been created, Home Award represents the coziness when entering your site.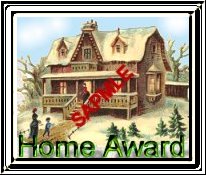 THE CRITERIA FOR MY AWARDS IS AS FOLLOWS:
1. No Porno, Nudity, Racist, Degrading, or Hurtful

2. Unique and useful content;

3. Exceptional graphic design/layout;

4. Clear and simple navigation.

5. Sign my guestbook.

If you think your site meets My criteria and you would like to apply, Fill in the form below.
Apply for one or more of My Awards
Your name:
Your email address: (e.g.: you@hotmail.com)
Enter Your URL: (e.g.: http://www.paul.org)

| | |
| --- | --- |
| | |
| | Site Name |
| | |
| | City/Town State/Prov. |
| | |
| | Country |
| | |
Enter a brief description of your site
Which Award you are Applying for
If your Browser doesn't support forms,
Send E-mail with info to Sylvia's Corner
AWARD WINNERS
[ Home | Favorites | Personal | Entertainment | Hobbies | Games | Humor ]
[ Poetry | Webrings | Utilities | Hot News | Recipes | Win My Award | HTML | Awards ]